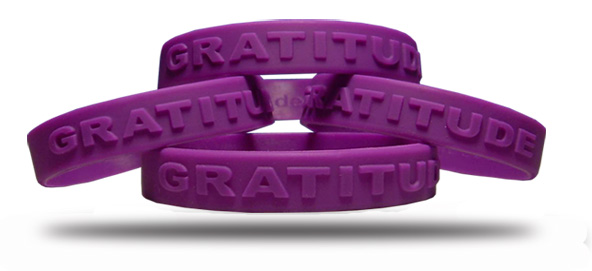 100% Silicone Embossed Wristbands
Embossed wristbands are produced by creation of a mold that resembles the shape of the wristband. The mold has inclusions in it that represent the text or images that will be raised above the wristband surface. The mold is created from artwork generated by staff members here at 2400Promotions.com., from your design ideas and requests. We have thousands of images and hundreds of font styles at our disposal to help you with creation of your original custom silicone bracelet design. The artwork that you approve will be used to create your mold. Once the mold is created, molten silicone in the color of your choice, whether a single color, segmented colors, swirled color combinations or "glow in the dark" color is poured into the mold and allowed to cure. Once cured, the wristband is removed from the mold and packaged for delivery.
Samples: We can send samples. Here is our sample policy: Please provide us with your UPS or FedEx account number. We will ship samples via Overnight Delivery using your account information. Samples are randomly selected and may not be of the color or type that you have requested.

We will beat any competitor's price!
100% Silicone Wristband
FREE Artwork and design!
FREE Unlimited Characters!
FREE Individual Packaging
NO MOLD FEE on any order!
FREE Color Matching!
FREE UPS Air Shipping!
Quantity
Debossed/Embossed
Bracelets
1 Color Silk Screened
Bracelets
Debossed Printed
Bracelets
Debossed/Embossed
Key Chains
Ribbon
Key Chains
500
$0.68
$0.70
$0.80
$0.84
$0.84
1,000
$0.42
$0.43
$0.52
$0.72
$0.72
2,000
$0.35
$0.37
$0.46
$0.69
$0.69
3,000
$0.33
$0.35
$0.43
$0.67
$0.67
5,000
$0.29
$0.32
$0.41
$0.66
$0.66
10,000
$0.24
$0.29
$0.40
$0.65
$0.65
20,000
CALL
CALL
CALL
CALL
CALL
50,000
CALL
CALL
CALL
CALL
CALL
60,000+
CALL
CALL
CALL
CALL
CALL
11C
11C
11C
11C
11C
Custom Silicone Wristband Options
Add more excitement to your custom wristband or awareness bracelets with some of these attractive and inexpensive wristband options.
Add A Swirl or Segment up to 3 colors on your wristbands for only $0.06 (G) per color per band
Add Glitter Color to your wristband for only $.08(G) per band
Make Your Custom Bracelets Glow In The Dark for only $0.08 (G) per color per band
$40 (G) For Multiple Imprint Designs and/or Multiple Sizes
Looking to place these on Kiosks using hangers and need custom printed backing cards for that professional look? Here at 2400Promotions.com we can produce your custom backing cards to display your custom wristbands. Review our custom backing card pricing below and feel free to contact us with your backing card design ideas....we will create a backing card with "pop" that will help your bracelets sell!
Backing Cards
2 Color
3 Color
4 Color
ADD:
$.10ea
$.20ea
$.25ea
$125 (G) Setup.
3C