| Description - Gold or Silver | 100 | 300 | 500 | 1000+ |
| --- | --- | --- | --- | --- |
| 1.5" Coin (no color) | 5.12 | 4.38 | 4.31 | 4.20 |
| 1.5" Coin (one side w/color) | 5.25 | 4.76 | 4.68 | 4.57 |
| 1.5" Coin (color on both sides) | 5.57 | 4.97 | 4.90 | 4.88 |
| 1.75" Coin (no color) | 5.64 | 5.25 | 5.15 | 4.68 |
| 1.75" Coin (one side w/color) | 5.75 | 5.45 | 5.33 | 5.24 |
| 1.75" Coin (color on both sides) | 6.15 | 5.80 | 5.65 | 5.60 |
| 2" Coin (no color) | 6.67 | 6.05 | 5.80 | 5.71 |
| 2" Coin (one side w/color) | 6.77 | 6.13 | 6.01 | 5.89 |
| 2" Coin (color on both sides) | 7.36 | 6.84 | 6.76 | 6.67 |
$150.00(G) mold fee on 300 or less quantities. No mold fee on quantities more than 300
Challenge Coin Options
Smooth Cut - N/C
Wave Cut - Diamond Cut - $.37 (G) per side
Cross Cut - Diamond Cut - $.37 (G) per side
Oblique Rope Cut - Diamond Cut - $.37 (G) per side
Clear Coat Epoxy - $.37 (G) per side
Antiquity - $.50 (G) for 2 sides
Sequential Numbering - $.43 (G)
Duo Tone Metal - $.87 (G) each
Glitter - $.15 (G)
3D Mold - Double Mold Fee
Glow In The Dark - $.25 (G)
Cut Outs - $62.00 (G)each
Velvet Bag - $.75 (G) each
Acrylic Coin Case - $1.25 (G) each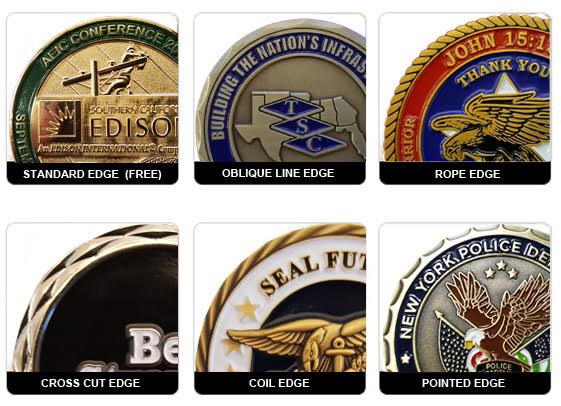 As reminder 2400Promotions.com provides the following services:
FREE Design Consultation
FREE Digital Proofs of your Challenge Coins
FREE Artwork Revisions
FREE UPS Air Shipping
FREE Enamel Colors (Up to 5 at no charge)
10 Day Production
100% Satisfaction Guarantee!
Custom Challenge Coins
Traditionionally, challenge coins had its beginning in World War I. Challenge coins were issued to battalions as symbols of camaraderie and unity. As time went by, the "challenge" of the challenge coin signified the ability to show your coin as a means of verifying membership in a club, group, or military unit.
What is the 'challenge' of the challenge coin?
When someone produces their challenge coin, you must produce your coin within 60 seconds. If you are unable to, you must meet the challenge. The "challenge" associated with the challenge coin could be to perform a specific task, buy the other person a drink, or any thing determined by the group who issued the challenge coin.
Who uses challenge coins?
Although they were conceived and implemented in the military, the honored tradition of challenge coins continues today among a wide variety of groups such as:
ROTC Units
Chambers of Commerce
Political Organizations
Fraternities
Scouts
Church Groups
Various Business Organizations
Social Groups
Rotary Clubs
Toast Masters
Sororities